Center Joystick Chair Mount
Center joystick mount for attachment to various office chairs.
Quick and easy to remove. Can be adjusted for different joystick configurations.
Concept
A center joystick is a must for various flight simulations, which is why we have developed a center joystick mount that can be optimally combined with our joystick/HOTAS chair mounts.
In order not to make the office chair unusable for everyday use, the center mount can be removed quickly and without any tools.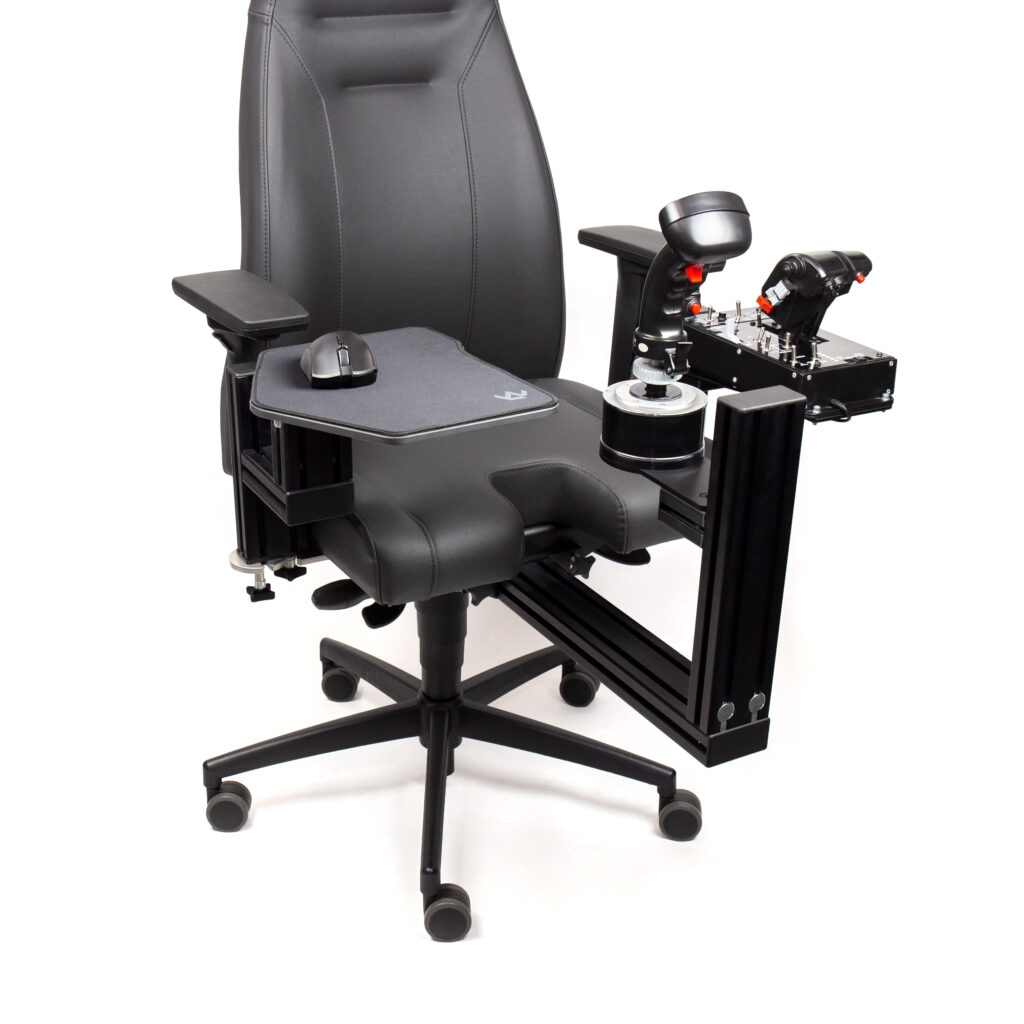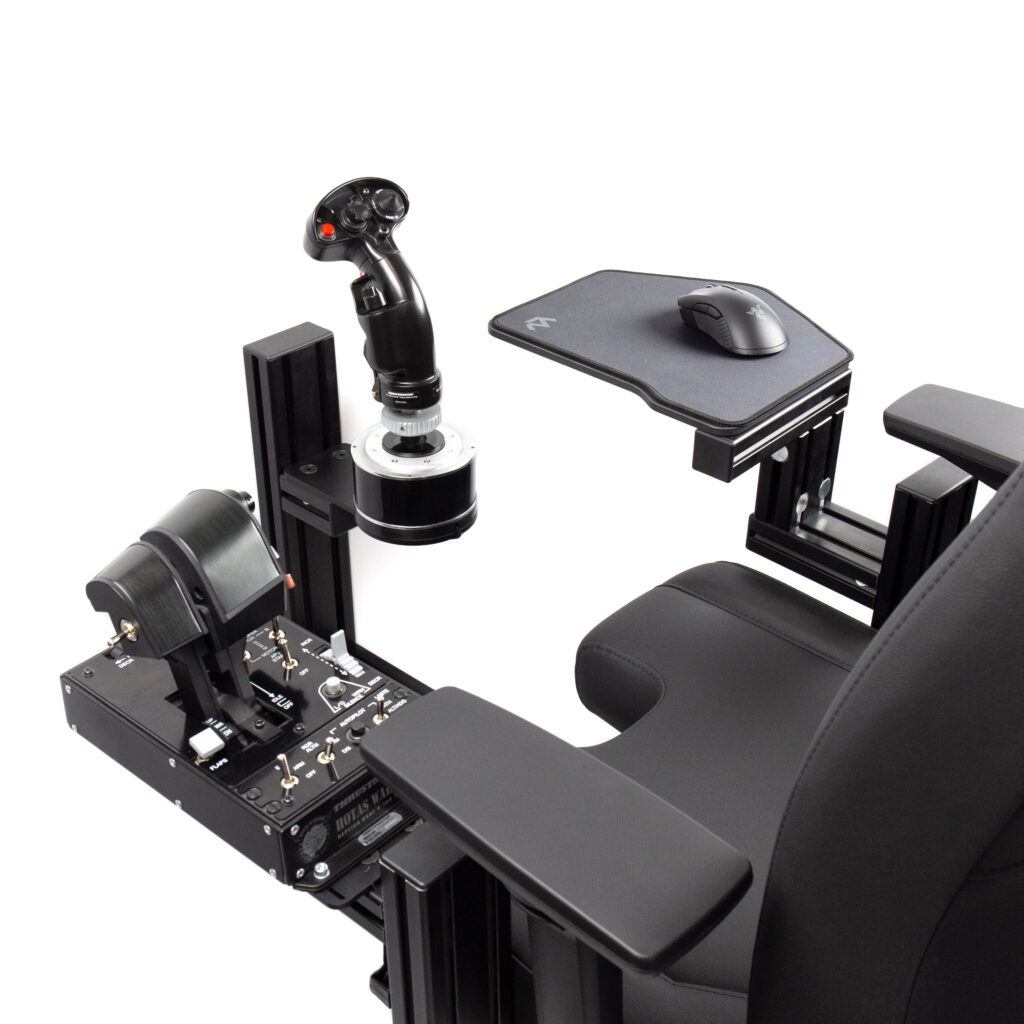 Configurations
The mount can be attached in several combinations to support various joystick configurations.
Joystick above the seat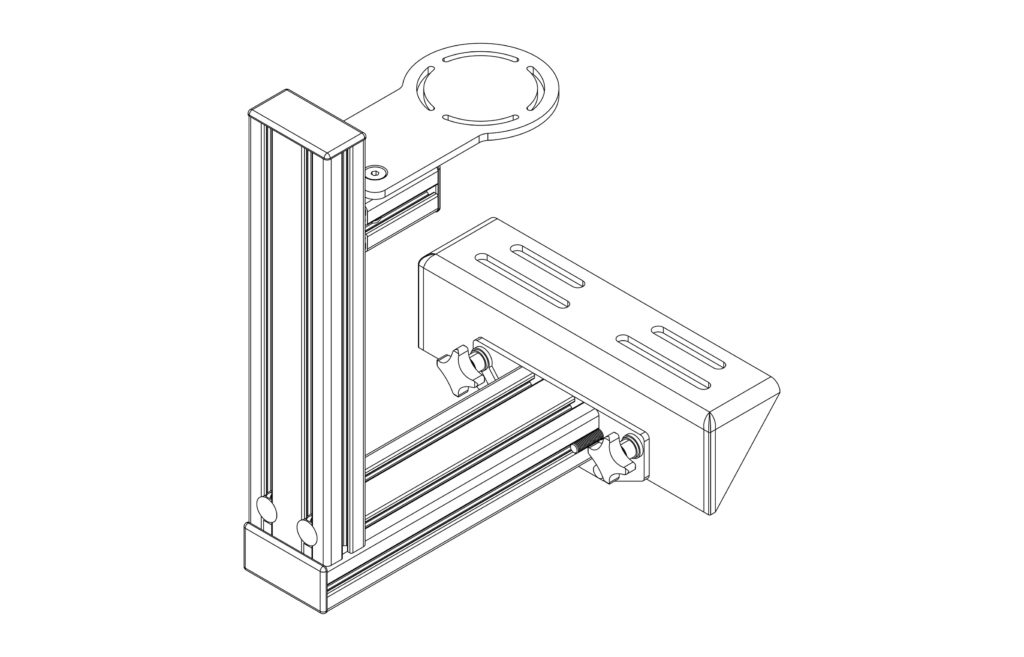 Joystick with extension (standard)
Joystick with extension (height-adjustable)
Attachments
The Chair Mount Center mounting bracket can be attached to many different office chairs. The plate is screwed between the seat and the two front attachment points of the chair base.
The following drawing can be used to check whether the chair is compatible with the holes in the plate.
The mounting bracket is compatible with most office and gaming chairs. Please let us know if it does not fit on yours, our goal is to make as many chairs compatible as possible.
Shipment

1x Stainless steel chair mounting bracket
1x Joystick mounting plate *(depending on order)
Various profiles for several joystick configurations.

For setup and adjustment, a hex key set with ball head is required. (Not included)

Chair, armrests, joystick or throttle are not included and only serve to illustrate the complete structure on the product images.
FAQ
I changed my HOTAS/Joystick setup, what to do?The joystick and throttle mounting plates are easily interchangeable and can be ordered separately.
Compatible Joysticks and Throttles:


Brunner CLS-E
Brunner CLS-P
CH Products Combat-/Fighterstick & Pro Throttle
Logitech G940
Logitech/Saitek X52/Pro
Logitech/Saitek X55/X56
Realsimulator FSSB 3
Saitek X65F
Thrustmaster Cougar
Thrustmaster T-Flight
Thrustmaster TCA Sidestick AIRBUS Edition
Thrustmaster TCA Quadrant AIRBUS Edition
Thrustmaster T16000M FCS
Thrustmaster TWCS
Thrustmaster Warthog
VKB Black Mamba
VKB Gladiator/NXT/Pro
VKB Gunfighter MK1/MK2/MK3
VPC MongoosT-50/CM/CM2 Joystick
VPC MongoosT-50/CM/CM2/CM3 Throttle
VPC WarBRD
Winwing Super Libra
Winwing Super Taurus
Is VAT (Value-added tax) due for orders outside the EU?19% VAT is only charged for deliveries within Germany and the EU.

Notice
Our design is constantly improving, so the finished product may differ from the version in the videos and on the images.